Sharpay Evans' Outfits Analysis
Sharpay Evans is the main antagonist of the first two films and the co-president of the East High drama department alongside her twin brother, Ryan, with whom she has starred in 17 school productions.
We all loved Sharpay's outfits and thought she was an absolute fashion icon – year six me would have paid good money to wear absolutely anything of hers.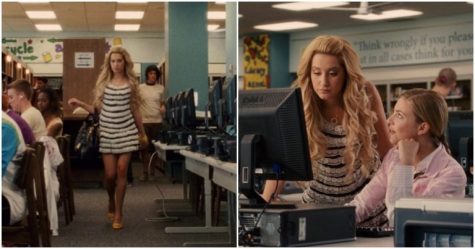 Honestly? For Sharpay this isn't that bad. Yes the dress is covered in those weird lace ruffles, but there isn't a piece of glitter in sight. Plus, she's wearing a dress (and heels!) in the library. Tell me you EVER look that put-together when you're sitting in the lib crying into your iced coffee.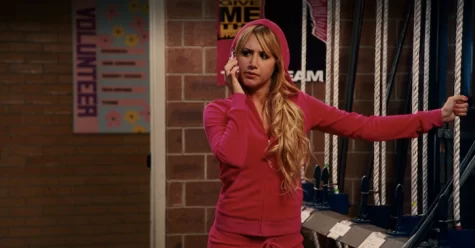 This tracksuit set from HSM3 has serious Juicy vibes, which is right when you consider the film came out in 2008, but let's be honest it wouldn't look out of place on the pages of Missguided or PLT today. Obviously, because it's Sharpay it's hot pink and has rhinestones on the hood, but is still very low on the scale of chaotic-ness.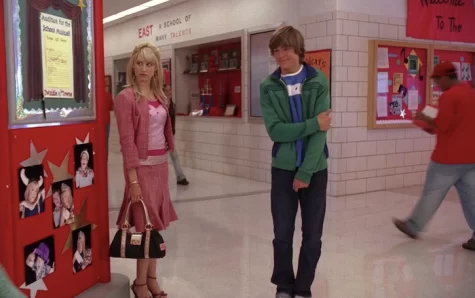 We're really getting into the chaos now. This is the first ever outfit Sharpay wears in any of the HSM films and honestly I don't know what to look at first. The pink tartan suit; the weird-length skirt with the pleats around the knees; the gold belt worn on her hips (???); the fact she's layered two different tank tops. Troy looks uncomfortable af here, and same.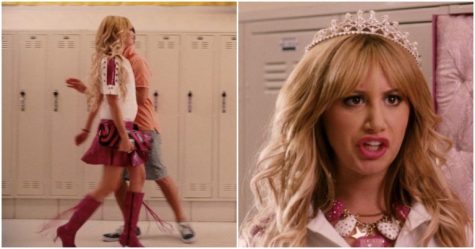 Matching pink croc skirt and knee high boots is a bold fashion statement only Sharpay could make. I don't know what all that stuff is on her necklace, but I'll be glad to never have to see it again. Her tiara game has improved, though.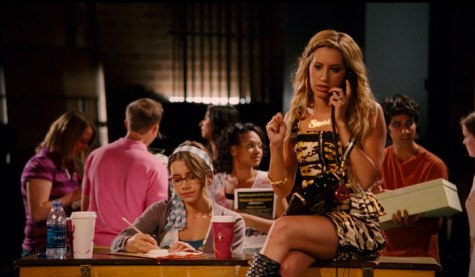 More gold, but this time with black. This dress should be burned, along with all other peplum dresses and tops ever made. I would also like to remind you that High School Musical is set in a high school, and I don't know what kind of dress code they have but there is no way my secondary school teachers would have ever allowed this.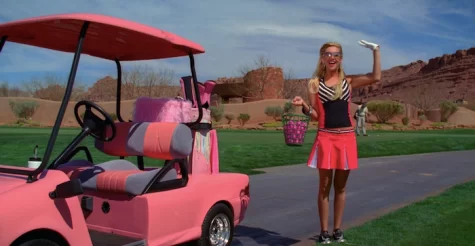 Sharpay wears this when she has golf lessons with Troy in HSM2, and I don't know about you but if I was trying to steal Gabriella's man, this is not the look I would go for. When you first see the ensemble you just think it's some kind of hideous dress, but look closer and it's actually a vest-and-skirt combo. She does have a pink golf cart, clubs and balls, though, so bonus points for that.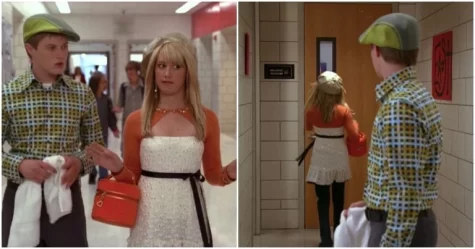 You first see this outfit as just a slightly oddly-shaped white sequinned dress, orange bejewelled cardigan and orange velvet bag. Then you realise the cardigan and bag are two entirely different shades of orange. Your eyes pan up and you see the gold beret, inexplicably worn to the side. THEN the angle changes and you see Sharpay is quite literally wearing skinny jeans under the dress. I have nothing left to say, except that this outfit should never be worn by anyone ever again.