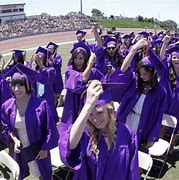 The Seniors Assembly
Wednesday a grand opening for seniors. The opening was talking about orders coming in for their caps and gown where to order and you can order online or in person audience of the seniors got pretty crowded their mixed emotions in the crowd. Games were fun and everyone participated.  In the crowd everyone got to get up do heads or tails. There was senior merch you can order and have the senior time of your life. The reason of the assembly was to get the seniors ready and be noted for their graduation. Get ready seniors get ready to pre order your gowns it's ok it's never too late it's just a reminder to go order your gown. There are other options ordering your gown like renting it or ordering.
Senior gets ready of class of 2024 make memories being and order your class of 24 merchandise. You get a multiverse of colors of merchandise you can order. Including 25 dollars of purchase when ordering your gowns with a free class of 2024 ring.