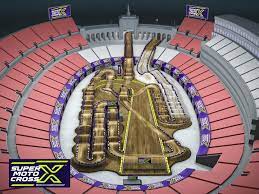 This weekend will be the first ever Super Motocross Finals held in the LA Coliseum. The SMX series consists of 3 rounds, 2 being playoffs and the 3rd being the final. In the playoff rounds, the racers battled to see who could get the highest ranking out of the two motos for each class.
The first round, in Charlotte, North Carolina, ended with the podium of the 250 class being Jo Shimoda, Haiden Deegan, and Hunter Lawrence. The 450 class podium results were Chase Sexton, the 2023 Supercross champion, in first place, Jett Lawrence, 2023 Motocross champion, in second place, and Aaron Plessinger in third place. These results are of two separate motos these racers participated in, and then the points were combined to give the overall standings.
The second round, in Chicago, Illinois, had the 250 overall podium being Hunter Lawrence, Jo Shimoda, then Haiden Deegan. The 450 podium was Jett Lawrence, Ken Roczen, and then Chase sexton.
Now the overall rankings for the Finals this weekend for the 250s are Hunter Lawrence with 89 points, Jo Shimoda with 86 points, and Haiden deegan with 82 points. The 450 standings are Chase Sexton with 90 points, Jett Lawrence with 88 points, and Ken Roczen with 80 points. The amount of points the racers get this weekend will determine the winners of the first ever Super Motocross Season.
Each class has grand prizes for the riders. The first place winner of 250s gets $500,000, second place gets $250,000, third place gets $150,000 and all other riders receive prize money as well. the 450 class first place winner will get $1,000,000, second place with $500,000, third place with $250,000, and the rest of the riders receive prize money as well.