The NFL this season has had a lot of season ending injuries occur to some very important people. Future Hall of Famer Aaron Rodgers the New York Jets quarterback was hyped up all season after the show Hard Knocks followed the team all season. Just 4 plays into the season he was brought down and tore his achilles ending his season. The Jets were projected to go very far with Aaron and he was going to mentor young 1st round pick in Zach Wilson but now he takes the throne.
Another very sad injury from a star player was Cleveland Browns Nick Chubb who is yet to have a bad season his entire career. He was a key point to the offense with the amazing O-Line and great wide receivers. Chubb had one of the worst visually appealing injuries ever recorded. It was so bad most channels didn't even show it out of respect for Chubb. Everyone believed it to have ended his potential Hall of Fame career but thankfully he only tear his MCL which gives him around a 6-8 month window to come back.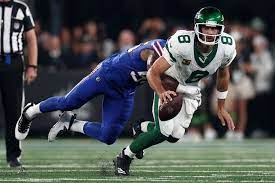 There are a ton more injuries but only so many could be put down. A lot of teams are 0-3 or 1-2 but were projected to be way better but they are either missing on a star qb or just key role players are hurt.