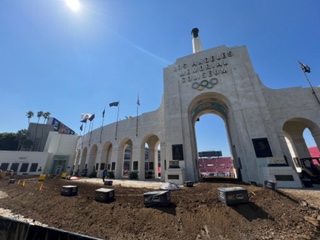 At the Super Motocross Finals this past weekend, history was made. This race took place in the LA Memorial Coliseum. Each round of SMX has a "pit party" where you can go into the pits and get to meet your favorite riders plus many other racing icons. I was walking around with my eyes wide open looking for anyone that I recognized. I ended up leaving with 10+ signatures from great riders as well as pictures with them.
When the race began, it was announced that the points leader for the 250 class got injured earlier that day in practice and was not going to be participating in the race. So that bumped Haiden Deegan into first place. In order for him to win, he just had to get a higher placing than his now second place competitor, Jo Shimoda. Deegan ended the night with a fifth place, and a second place. He was able to hold his position, and win the title of the first ever 250 SMX Champion and received $500,000 his rookie season.
For the 450 class, it was a close battle for the points, Chase Sexton was in first place with a two point lead, Jett Lawrence was in second place, and Ken Roczen in third. After the first Moto, Lawrence had taken the lead by placing first. Sexton placed third, and Roczen placed second. Now the points were even closer and Roczen had a shot at getting the lead if he placed first in the next Moto and Lawrence would have to get third or lower. In the final race of the night, Sexton was in the first position, Roczen in second, and Lawrence in third. With less than half the Moto left, Sexton crashed in the sand section and did not finish. This left Roczen in first place and Lawrence right behind him. The two battled for a few laps until a lap rider got in Roczen's way, allowing Lawrence to make the pass and take the first place position. Jett was able to hold his lead for the remainder of the race and win the title of being the first ever 450 SMX Champion along will a grand prize of $1,000,000.