Beetlejuice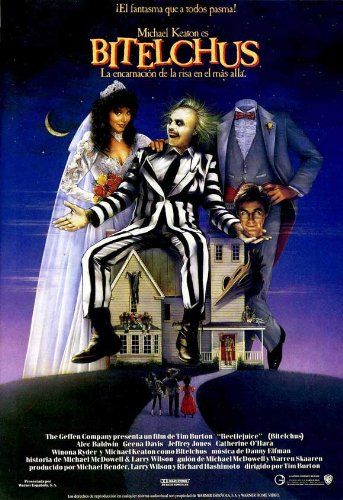 With Halloween just around the corner, it's finally time to start watching Halloween movies! And whether you like the family friendly specials of The Peanuts, or the terrifying classic horror movies like A Nightmare on Elm Street, at least one of your favorite Halloween movies was probably directed or produced by the master of children's horror, Tim Burton. So for the month of October, the magazine staff will be producing a few movie reviews that were directed by Tim Burton. The first movie being an 80's classic, Beetlejuice!
Beetlejuice is a 1988 children's, fantasy-horror film directed by Tim Burton. The film follows a deceased young couple, who died early on in the film, named Adam (played by Alec Baldwin) and Barbara Maitland (played by Geena Davis) in their mission to drive the Deetzes (played by Catherine O'Hara, Jeffrey Jones) and teen daughter Lydia (played by Winona Ryder) out of their old country home. When their attempts to haunt the Deetzes fail, they desperately ask Beetlejuice (played by Michael Keaton), a conniving spirit whose "help" quickly becomes dangerous for the Maitlands and young Lydia. 
Right from the start, Beetlejuice is dripping with creativity, from the premise of the movie to the hilarious ways the dead is represented; everything feels original and well made. Even with the, admittedly, dated effects and clay animation, everything feels real and the world, in general, is well defined. It never over explains its world to the smallest, unnecessary details, instead it gives just enough for the world to feel fleshed out but leaves out enough for the world of the dead to be mysterious and creepy. 
The characters are extremely charming and give the movie a bit of light in some of the darker topics that are raised in the movies. Above all, they are all hilarious. Michael Keaton as the perverted, morally questionable Beetlejuice is a riot, you can tell he is having a ball playing his role and just has a funny line, after funny line. He alone is enough to make the movie worth seeing at least once. Of course, the other characters are amazing as well, and all the actors are clearly giving their best performances.
The effects are dated, and a little bad by today's standards, but they have this old school cheesiness that you can't help but admire. 
Overall the movie is a great time and a great movie to watch on Halloween!