Fall Recipe #2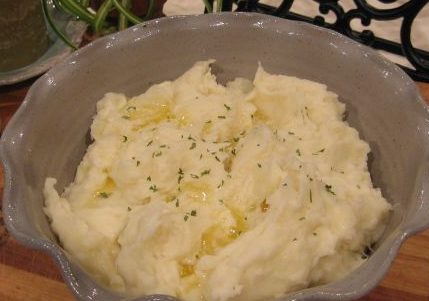 For the second recipe, we decided on another timeless Thanksgiving classic: Mashed Potatoes.
What you will need: (Serves about 4)
8-10 medium sized potatoes
¼ cup of milk
2 tablespoons of sour cream
½ cup of margarine
salt (desired amount)
pepper (desired amount)
parsley flakes (to top)
Directions: (takes about 40 mins)
Peel (or leave skin if desired), cut up and boil potatoes until tender
Drain water and place potatoes into a large mixing bowl
Add margarine, sour cream and milk. Mix until smooth and consistent
Add salt and pepper to your desired taste (be sure to add a little at a time as to prevent over-seasoning)
Add a few pats of margarine on top of finished potatoes to melt
Finish with a sprinkle of parsley
About the Writer
Josiah Perez, Head Editor
I am the head editor. I was in the magazine class last year. I like writing. I write a lot. I am also the kid with the duct tape headphones. I enjoy this...