Impractical Jokers Season 9 Resumes Filming, Dinner Party Gets A Second Season.
Impractical jokers, the most popular hidden camera tv show, according to IMDb, resumed filming, after being postponed due to the coronavirus outbreak. In the meantime, they would begin a new show, Impractical jokers dinner party, filmed remotely from each of the guys homes.
The show, starring the Staten Island based comedy troupe The Tenderloins, Sal, Joe, Murr, and Q, began in 2011. Originally being called "Mission Uncomfortable", the title was changed by Trutv to "Impractical Jokers" with their first episode Airing December, 15, 2011, having over 1.50 million viewers.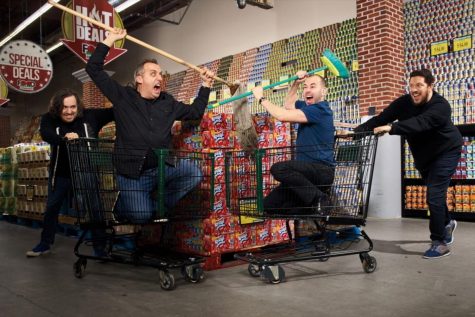 With over 205 episodes, 35 specials, and 5 spinoff shows, the network felt the decision to continue the show was clear, as said by general Manager of Trutv, Brett Weitz, "for us, it's a no brainer to bring this show back for a 9th season and give the fans what they demand. The guys consistently bring the funny and we are proud to be home to their hilarious antics".
As for Impractical jokers: Dinner Party, it has been renewed to have 10 more episodes, making the total episode count 18. The show, which airs Thursdays at 10, was originally supposed to air October 15, but eventually got pushed back to October 29th, in order to film more episodes. While there is no confirmed release date for season 9, with filming resuming early august it is very possible that it could air before the end of the year, at the earliest.