Crab Rangoon – Recipe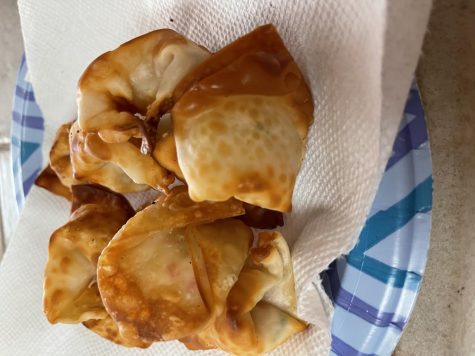 Ingredients
1 cup of cream cheese (8 oz)
1 packs of Imitation Crab
3 Green Onion Stalks
1 can Water Chestnuts
2 packs Wonton Wrappers
Preparation
Break crab into small pieces. Cut green onion into fine slices all the way down to about one inch from the root. Dice the water chestnuts. Soften cream cheese for 2-3 hours.
Filling
Add cream cheese and crab pieces into a bowl. Mix. Next, put water chestnuts and green onion into howl with crab mixture. Combine until evenly mixed. Make sure to scoop the bottom.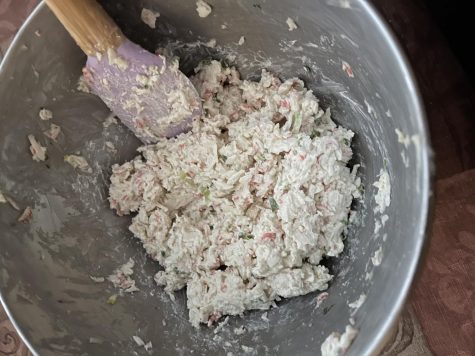 Wrapping the Rangoon
Fill a small bowl with some water. Get a plate to use as a "wrapping station". Make sure the plate is dry. Now, get your wonton wrappers. Carefully put one onto the plate. Add about a teaspoon  of filling onto the middle of the wrapper. Dip a finger into the water and run it along the edge of the wrapper. from one corner to the opposite leaving only one corner dry. Pull the dry corner over to the wet corner and gently press down the edges. After that, pull the two bottom corners together and place on a parchment paper lined cookie sheet. Repeat the steps for the rest of the wontons and freeze for one hour. They don't have to be perfect they just have to be completely closed.
Frying
To fry, heat your oil until hot. Take out the frozen wontons and put them in the hot oil. Make sure not to drop them in so that it doesn't splash. Fry until golden brown. Take them out and place them into a colander like with paper towels and let cool. Serve with sweet chili sauce or any other sauce that you prefer.
Extra
I recommend having family help with the wrapping process and putting on some music. I would also like to point out that on the bottom of the wonton wrapper package there are instructions on how to wrap wontons.