The Mandalorian- T.V Series Review
For awhile now, I've been wanting to watch the Mandalorian for the same reason I wanted to read the original Star Wars Trilogy… because it was praised by everyone, even people who hadn't seen the movies, and I wanted to see what all the hype was about. And, it seemed like an interesting story; the exciting tale of a lone bounty hunter in the outer reaches of the galaxy, far from the authority of the New Republic, trying to protect a strange creature. I was recommended this before I reviewed the original Star Wars trilogy (https://rhslegend.com/3493/ae/star-wars-og-trilogy-movies-review/) and after watching them, I decided to watch the Mandalorian and it really does deserves to be highly praised.
However, before I continue I just want to make something clear, I won't compare this to the original trilogy, or the… "highly" praised squeal trilogy.  So, let me tell you about this lone bounty hunter and a baby Yoda.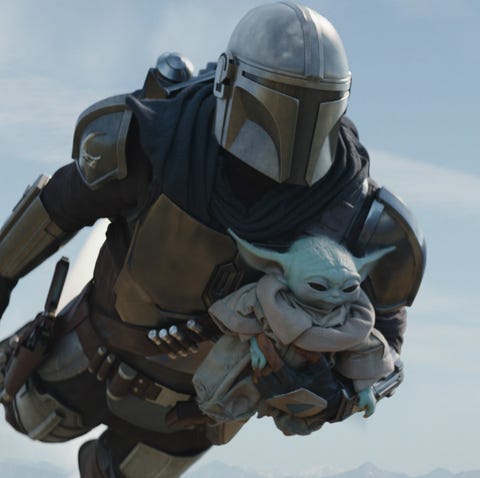 When I was watching this show, I was ACTUALLY watching the show. I know that sounds kind of dumb to say but when I am watching a show I would do other things like homework, or wash the dishes, or play a game on my movie or something else. But I ended up being captivated by not only the plot but by the main character. In this TV series, it is like more of a silent film than anything else. If you want to understand the story you have to pay attention to the little details and that even includes the main character of the series.  When the Mandalorian comes on screen you always want to know what is he going to do. He is quiet, smart, a lone wolf, and very stubborn. Mandalorian doesn't talk very much so when he does talk you have to be paying close attention to what he says and I think it makes him more interesting. When the Mandalorian starts to have a bond for baby Yoda, the reason why I care about baby Yoda wasn't for him being cute (he is adorable), it was what he meant to the Mandalorian. Every time the Mandalorian was worried about Baby Yoda I was worried too. I do have to give credit with all of the action scenes and the world-building as a whole is really good too. I really don't want to give any spoilers because it's that good