Paso Robles Field of Lights Show
Interested in light shows? I recommended taking a trip to the 'Field of Light at Sensorio' exhibit created by Bruce Munro! 'Field of Light at Sensorio' is a light show located in Paso Robles, featuring hills packed with 58,800 color changing fiber optic stemmed spheres. The light show is a self-guided walk through exhibit, which is 15-acres long. Only a limited amount of tickets are available nightly, and tickets may only be purchased online. Late entry ticket purchases are not permitted, and the box offices closes 45 minutes before the art installation ends, while the actual lights begin to dim 15 minutes before closing. COVID-19 restrictions apply, so make sure to wear a face mask and maintain social distance while attending this art installation.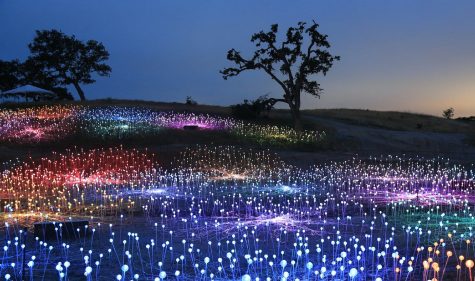 'Field of Light at Sensorio' first debuted in May 2019, and was created by well-known British/Australian artist Bruce Munro. Munro first had the idea for the 'Field of Light' back in 1992, where he had visited Uluru, Australia. When Munro had looked upon the ancient and old sandstones of Uluru, he felt a great amount of energy and inspiration, claiming that "feeling" is an important part of art. Munro further proceeded to buy a home in England with a field included after the death of his father, and started creating the prototype for what would now be known as the 'Field of Light'. Munro had felt like he needed to create something "bigger", and that is exactly what he did. The fiber optic cables light up the dark hills, creating bright masses of light with colors such as red, pink, blue, orange, and green. Visitors say that they feel many emotions as they view the colorful spectacle, and Munro's goal for the 'Field of Light' is to make people feel connected with the nature that surrounds them as they pass through the exhibit. The 'Field of Light' exhibit has even garnered attention from big platforms such as CBS and The New York Times. Visitors from across the nation have come to Calfironia to view this beautiful light show, some even visiting from different parts of the world, such as London!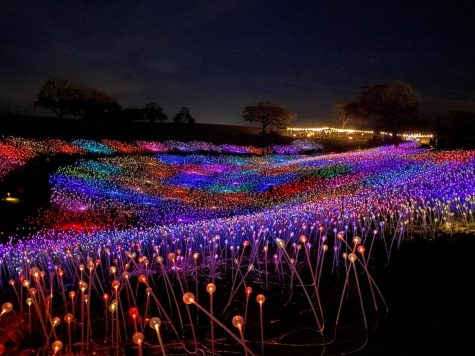 Tickets for this art installation range from $27-$40 for adults, $11-$22 for children, and $79-$104 for VIP. Tickets are cheapest when bought in advance, and a special "Family Night", where children's tickets are 50% off, is designated on every Thursday night. Due to COVID-19 though, this exhibit closed on December 7, 2020, with plans to reopen in mid-April of this year. New times for the months of April through June include: 7 PM-10 PM on Thursdays (and Sundays in June) and 7 PM-11 PM on Fridays and Saturdays. 'Field of Light at Sensorio' provides a sense of emotion, tranquility, adventure, and meditation as you explore the dimly lit hills full of colorful spheres. Colors illuminate and enhance the shapes of the hills, which present breathtaking displays. Group sizes of visitors are limited to 6 persons per group, and this art installation is located off of Highway 46 East, left past the Eberle Winery. Expansion plans for this beautiful art display also include a future conference center and hotel, which are expected to debut later in the year. This is a beautiful opportunity, one that you won't want to miss, so if you are interested in attending this art installation, make sure to reserve tickets when they are back on sale in April!