Godzilla vs. Kong Hits $70 Million in Pandemic-Era Box Office Milestone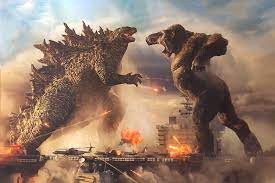 "Godzilla vs Kong" had a better-than-expected turnout over the weekend, boosting ticket sales to $13.8 million in its second outing in theaters.
Those receipts, coming in slightly above the $13.5 million the studio initially reported on Sunday, propel the film's overall tally to $70 million. After two weeks of release, "Godzilla vs. Kong" already ranks as the highest-grossing movie of the pandemic era, surpassing Christoper Nolan's puzzling sci-fi thriller "Tenet," which ended its theatrical run with $58.4 million. Both titles were released by Warner Bros.
The commercial prospects for "Godzilla vs. Kong" are especially notable because it is available on HBO Max, the streaming service owned by WarnerMedia. At the same time, movie theaters have been operating at limited capacity to comply with COVID-19 safety measures, capping ticket sales.