How To Make A Pizookie
Many of you are probably wondering, what is a Pizookie? Pizookie is kind of a strange name, but let me break it down for you; It's a Pizza Cookie at a restaurant they serve it to you in a pizza pan hot out of the oven with big scoops of vanilla ice cream on top. The center is going to be a little gooey, while the edges are crispy, so it's great for eating right out of the pan while it's still warm. Its so good my mouth gets watery thinking about it. Sadly Santa Maria doesn't have a BJ's restaurant where this delicious desert is made but follow this recipe and you can taste it for yourself.

Ingredients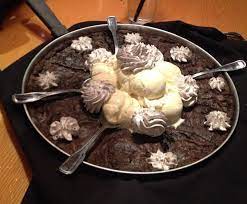 1 cup flour
1/8 cup cocoa powder
1 teaspoon baking soda
1/8 teaspoon salt
1 cup butter
½ cup sugar
1 egg
1/8 cup light corn syrup
1.5 ounces chocolate (1.5 baking squares), melted and cooled
1 teaspoon vanilla
10 Oreo cookies, crushed
INSTRUCTIONS
. Preheat the oven to 350 degrees F.
. Spray a cake pan or cast iron pan with cooking spray.
. In a small bowl whisk together flour, baking soda, salt, and cocoa powder; set aside.
. In the bowl of a stand mixer fitted with a paddle attachment, cream sugar and butter.
. Add egg and continue mixing until light and fluffy.
. Mix in corn syrup, chocolate and vanilla.
. Gradually mix in the flour mixture on low speed, until just combined.
. Fold in the crushed Oreos and chocolate chips. Spread in an even layer in a 9-inch cake pan or cast iron pan.
. Bake for about 25 minutes.
. Bake slightly less if you want it really gooey in the center and a few minutes more if you don't. After 20 minutes check to make sure it is not getting too brown.
. Serve right in the pan, hot with a couple scoops of vanilla ice cream.
ENJOY!