Magnolia Lemon Pie!!
Do you like desserts and baking? Are you a fan of key lime pie but have no key limes? Do you have a lemon tree in your backyard that refuses to stop producing lemons? Well if that's the case then you'll love this recipe!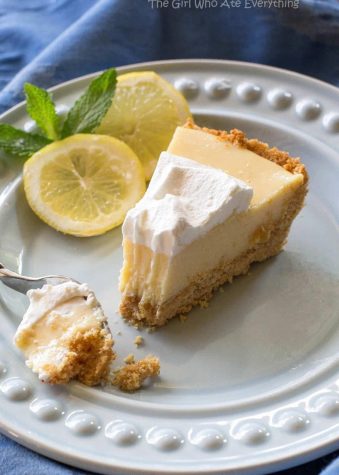 Magnolia Lemon pie is basically Key Lime Pie but with… lemons. And it's delicious!
Ingredients
For the crust you'll need… 
1 1/2 cups graham cracker crumbs 1 sleeve graham crackers crushed in a food processor

2 T light brown sugar

6 T salted butter melted
For the filling…
2 14- oz cans sweetened condensed milk

3 egg yolks

2/3 cup freshly squeezed lemon juice around 4-5 lemons

Pinch salt
And for the homemade whipped cream…
1 cup heavy whipping cream

2 T powdered sugar

1/4 t pure vanilla extract
Now onto the instructions…
First, preheat the oven to 350 degrees
Prepare Crust
Combine the graham cracker crumbs, brown sugar, and melted butter in a small bowl. Stir until fully combined. Evenly press the mixture into the bottom and sides of a 9-inch deep-dish pie plate.

Bake for 5-10 minutes, or until light golden brown. Set aside to cool.
Prepare Filling
In a medium bowl, add the sweetened condensed milk, egg yolks, lemon juice, and salt. Mix with an electric mixer until everything is combined.

Pour the mixture into the prepared crust. Bake in the oven for 10-20 minutes.

Remove from the oven to cool. Once cooled, cover the pie and place in the refrigerator to set for at least 2 hours.
Prepare Whipped Cream
In a medium bowl, add the heavy cream, powdered sugar, and vanilla. Mix with an electric mixer on medium-high until fluffy and soft peaks have formed.

Cover the cooled pie with the whipped topping.
Slice, serve, and enjoy!