Blackberry Cobbler- Cooking Recipe
Hello Wonderful Readers! Ah, it is almost the end of the school year, and summer is just around the corner! Finally, no more worrying about homework. Finally, we can stay up late into the night and not die in the morning. Finally, there's time to make and enjoy a tone of yummy summer treats! I enjoy fruit desserts and I thought it would nice to show you guys how to make Blackberry Cobbler.
Ingredients for the Blackberry Filling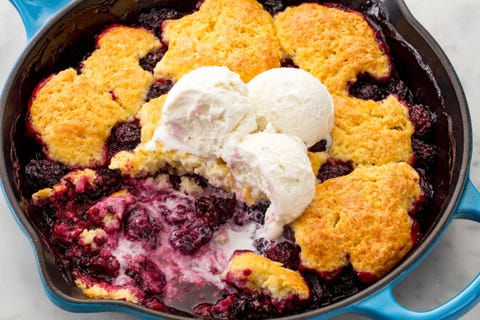 6 cups

blackberries

1/2 cups

granulated sugar
Juice and zest of 1/2 lemon

1 tbsp of

cornstarch

1 tsp.

 vanilla extract
Pinch salt
Ingredients for the Crust
1 cup

all-purpose flour

1/4 cup

granulated sugar

1 and 1/2 tsp.

baking powder

1/2 tsp.

salt

4 tbsp.

butter, cubed

1/4 cup

milk

1

large egg, lightly beaten
Egg wash, for brushing
Ice cream of top if you wish
Directions 
In a large bowl, toss the blackberries with sugar, lemon juice, lemon zest, cornstarch, vanilla, and salt. Let sit for 30 minutes.
Preheat oven to 350º. In another large bowl, whisk together flour, sugar, baking powder, and salt. Work in the butter with your hands until combined, then stir in milk and egg until just combined.
Transfer the blackberry mixture to an oven-safe skillet and top with dollops of dough.
Brush dough with egg wash and sprinkle with coarse sugar.
Bake until biscuit topping is deeply golden and blackberry mixture bubbly, 45 minutes.
Let cool 10 minutes before serving with vanilla ice cream.
ENJOY!