Learn More About Righetti Tutoring!
Please note, tutoring on 9/29 (Wednesday) will be shortened from 3:15pm-5:30pm due to Senior Parent Night.
This year, I signed up to be a peer tutor for Righetti in the library. This opportunity takes place Tuesdays, Wednesdays, and Thursdays from 3:15pm-5:30pm. All grade levels are available to be tutored. Tutoring started on Tuesday, August 31st! Peer tutors started Tuesday, September 28th. If you are struggling in a class, feel free to join us for extra help. There is no pressure to attend or to stay, the goal is to help you! Tutoring can be expensive, and having it available for free is an amazing opportunity.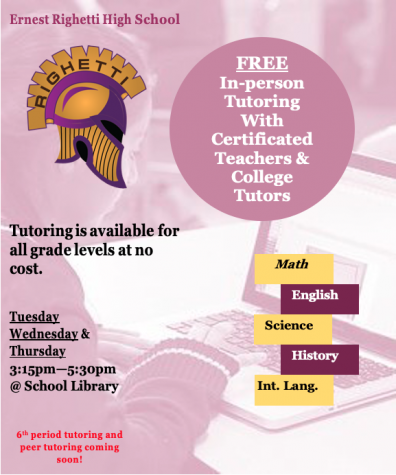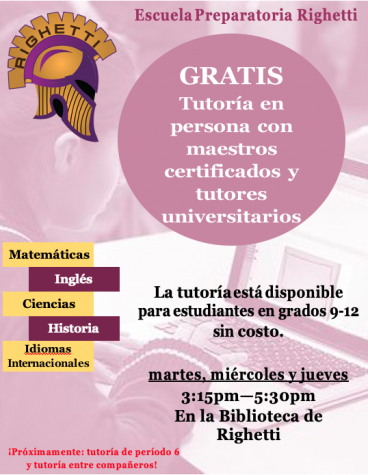 My experience as a peer tutor so far has been rewarding. There is plenty of space for more students to attend for help, and there are 8 peer tutors that specialize in the subjects that they are the best at. I specialize in English and history, but am willing to help any student with any subject. Other tutors specialize in math, foreign language and science. On Tuesday, there were four peer tutors available for students and two Cal-SOAP tutors (tutors from Allan Hancock). Plans have been made to possibly provide snacks and offer tutoring during 1st and 6th periods. More information regarding these plans can be found in the coming weeks through Parent Square or the library. Zoom is available for all students and you can sign into the meeting during tutoring hours to receive virtual help. Please see the flyer below for more information on Zoom tutoring. The link to the Zoom meeting is: bit.ly/rhstutoring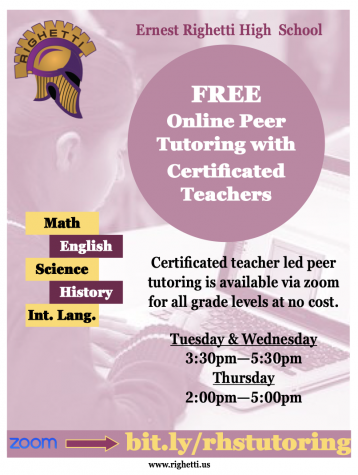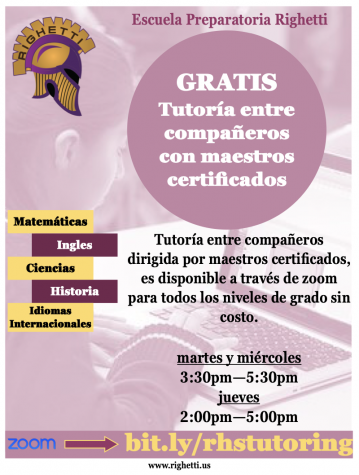 If you are struggling in a class, take action and get tutoring help! We've all had classes we have struggled in and you only regret the things you don't do. With that being said, there is no pressure to attend for the entire session; you can come and leave at any time during tutoring hours. Give tutoring a chance and make the most out of your educational experience!