Brooklyn Nets Not Offering Kyrie Irving $187 Million Extension
With the vaccine mandates taking place in multiple cities across the country, a question that arises is how will NBA teams react if a player refuses to get the vaccine? In those cities where there is a vaccine mandate, you need to be vaccinated in order to play. So in the Brooklyn Nets case, if a player is not vaccinated, they will not be able to play home games! Brooklyn's star guard, Kyrie Irving has refused to get vaccinated, and this has become a huge deal around the league. The Brooklyn Nets are definitely a NBA Title contender, and not having Kyrie would be a huge hit to the team. 
It seems Kyrie is not going to budge. He said on Instagram, "I am doing what's best for me. I know the consequences here, and if it means that I'm judged and demonized for that, that's just what it is. That's the role I play, but I never wanted to give up my passion, my love, my dream just over this mandate," he said. Because it is looking like Kyrie is not going to get the vaccine anytime soon, The Net's are not offering him a max extension. Rewind to early August and Nets GM Sean Marks said he was "confident"the franchise would sign both Irving and James Harden to extensions by the beginning of training camp. With Irving not getting this extension, and the Net's in a "Win now" mode, they could be looking to trade him. However, gauging the market for Irving, you would assume, is a difficult task because what team would want to give up multiple assets to get a guy who won't be able to play.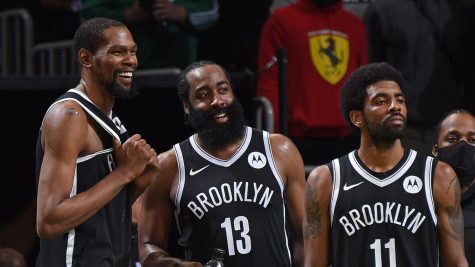 This situation is far from ideal, but it's not as bad as it could be. The Net's still have 2 top 10 players in the NBA on their team and are clear favorites to come out of the Eastern Conference even without Kyrie. The postseason is about 6 months away, so they have plenty of time. As of right now, taking a max extension off the table is the best course of action with all the uncertainty.