Tyrese Haliburton and Domantas Sabonis Blockbuster NBA Trade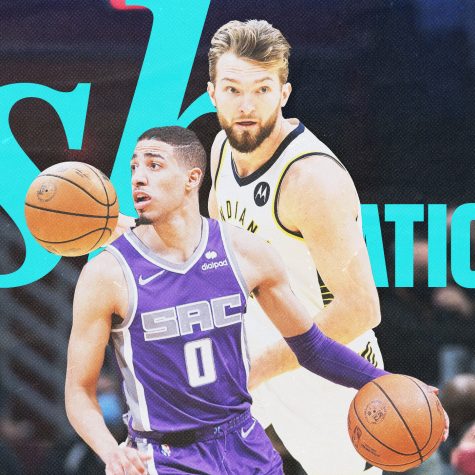 With a few days left before the trade deadline, the Kings and the Pacers pull off a massive 6 player trade. The Kings are trading Tyrese Halliburton , Buddy Hield, and Triston Thompson over to the Pacers for two time all star Domantas Sabonis, Jeremy Lamb, and Justin Holiday. After the Pacers traded away Caris Levert to the Cavs, we all knew they were going to blow up the roster. People went crazy over this trade yesterday, the only thing I saw was how dumb the Kings are and how big of a steal the Pacers got. Personally, I don't think it's as bad for the Kings as people make it out to seem. But I do agree that the Pacers did get the better deal. The Kings walked away with still a young 26 year old star and some solid role players. The Pacers got a super young player who could average 20+ ppg in the future. My final thoughts are that it wasn't a terrible trade that everyone says, but it's up to the Kings if they can make other necessary moves to make an actual playoff team with their 2 stars.
There was also another important trade that happened an hour or so prior which got quickly overshadowed by the Sabonis and Halliburton trade. The trade was between the Portland Trailblazers and the New Orleans Pelicans. The Pelicans sent out guards Josh Hart, Thomas Satoransky, Nickeil Alexander-Walker and Didi Louzada in the deal. New Orleans also sent a protected first-round pick and two second-round picks to Portland in exchange for CJ McCollum, Larry Nance Jr., and Tony Snell. After Portland's star guard went down with a injury mid-season, the team decided they were going to tank and finally blow up the roster. The Blazer's recently traded over Covington and Norman Powell over to the Clipper's which are 2 very solid players, so we all knew a rebuild was imminent. My question for the franchise is what are they going to do with Dame? He obviously isn't going to waste his prime playing on a rebuilding team, so I wonder what kind of package they can receive for him and when will they be making that move. For the Pelicans, I actually like this trade. When I first saw this I was shocked at how little value Portland got for a really good SG, but if you look at CJ's contract sitting at 30+million a year it's pretty clear he's a bit over-payed. CJ is probably worth 22 million, but 30 is an overpay so they had to take their asking price a bit down. My overall thoughts are that CJ will make a good 3rd star for this team which needed some more scoring badly.