March Madness Sweet 16
After a wild weekend of college basketball the round of 64 and 32 are over. There were plenty of upsets like St. Peters (15) and Kentucky (2). Some of the pre-tournament favorites got bounced in the Round of 32, including SEC heavyweights Tennessee and Auburn.The Sweet 16 are finally here and I'm going to be giving my thoughts on each team and who I think will win it all. Here is an updated bracket: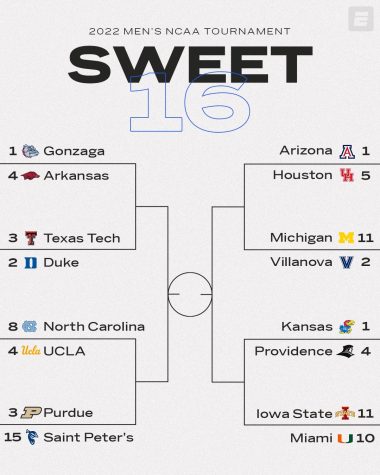 March Madness is taking a short 3 day break before resuming games on Thursday and Friday. Games will start with the West and South Regions. Gonzaga will be taking on Arkansas and Duke will be squaring off with Texas Tech. I think Gonzaga will be coming out of their matchup and Duke out of theirs with Texas Tech. Texas Tech has a lot of big guys and are very, very good at defending. I think if Duke can shut down their not so good offense they can win. Next is UNC vs UCLA and I think UCLA is just better so I have them advancing. Now it's the cinderella story with St. Peters, they have never made a Sweet 16 and have performed 2 huge upsets last weekend against Kentucky and Murray State. I've betted against them every round, and I'm going to do it again. Purdue is huge and I don't see them losing, but I am excited to see if St.Peters can pull off another upset. Arizona is playing another Texas team with Houston, but I think they will beat them. Michigan v Villanova is interesting, Michigan is a very on and off team, but I don't see them beating Villanova because I have them winning it all. Kansas and Providence are both greats and would love to see Providence advance, but I'll give it to the higher seed. Lastly is the Cyclones and the Hurricanes, this is a fun matchup for the weather geeks but I honestly don't have an opinion on who wins this matchup.
I'm very excited to see how these matchups turn out on Thursday and see if my predictions are true or not.