Allan Hancock College Bulldog Registration Rally
If you applied to Allan Hancock College for the 2022-2023 school year, Hancock will be hosting a rally where help will be provided for students registering either for the upcoming fall or summer 2022 classes.
The event will be held on Saturday, April 30 at 9 AM to 2 PM on the AHC Santa Maria campus. This rally is apart of the Hancock Promise events series where the college hosts informational events, such as Promise Parents Information Nights, New Student Orientations, and First Semester Plans.
Registration of any sort is not required for this event, and all students are encouraged to show up, including both high school seniors and currently enrolled Hancock students. Allan Hancock College staff will be there to assist new coming students with any questions, concerns, registration, help with their Hancock Promise, etc.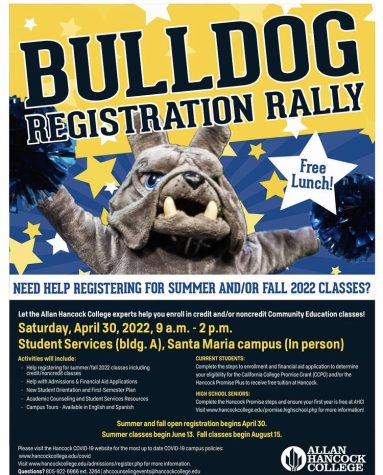 Hancock will provide students with help on the following areas:
Academic counseling
New student orientation
First semester plans
Financial aid assistance
Admission applications help
Student services
As well as assistance, Hancock will also be providing free lunch, campus tours (in English AND Spanish), and the chance to meet Allan Hancock College's mascot, Spike the Bulldog!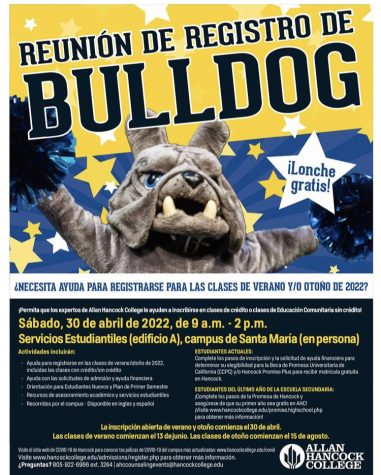 The rally will be held in Student Services (bldg. A) and other notable information includes:
Summer & Fall class registration begins April 30, 2022
Summer classes being June 13
Fall classes begin August 15
High school seniors recommended to complete Hancock Promise steps before event
Currently enrolled AHC students recommended to complete enrollment and financial aid applications/steps to determine their AHC Promise Grant eligibility