Monster High Original Collectors Dolls
Monster High is back and better than ever! Now releasing their collectors dolls of the original characters Frankie Stein, Draculara, and Clawdeen Wolf. Let's go over the new remake of these dolls.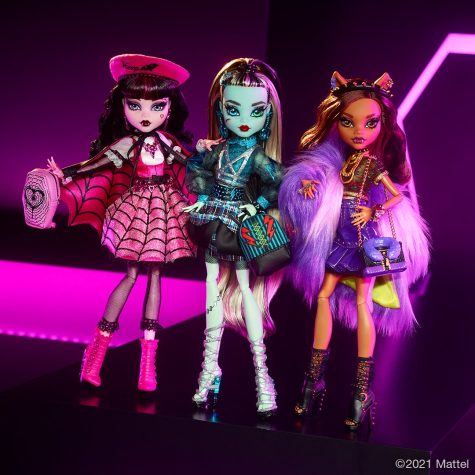 Rocking new looks, the characters take the original mold that they had when the dolls first debuted in 2010. However the dolls wear new modern esc clothes tailored to the individual character, as well as a new face-up. Giving them new life for their most anticipated comeback.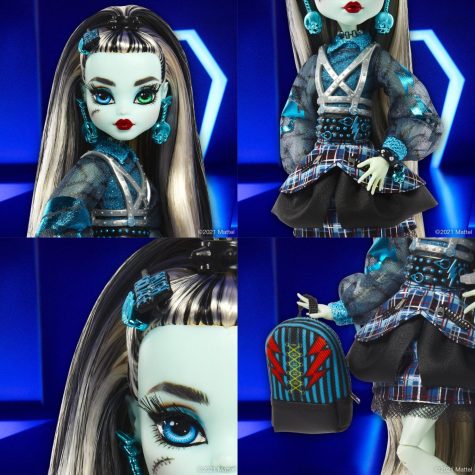 Starting off with Frankie Stein. She is seen wearing a see through mesh top with a sleeveless colored shirt underneath, and a metallic silver harness and black chunky belt. The skirt is inspired by the original design that she first had when Monster High debuted, but of course with a twist. As for accessories, Frankie has a stripped backpack with printed lightning bolts and laces. Along with two hair clips and skull shaped earrings.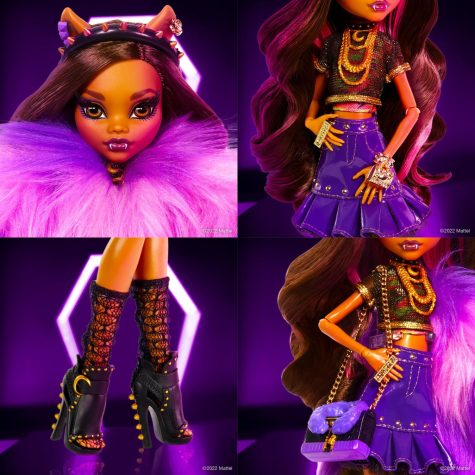 Now let's move on to Clawdeen Wolf. Clawdeen is wearing a cropped mesh top with gold fabric on the hem of the sleeves, and a neon pink tank top with neon green and black slash marking prints. Her skirt is a high wasted purple leather skirt with a ruffle at the hem, and gold trimming. For accessories Clawdeen wears a black headband with gold spikes, purple and gold earrings, gold rings and bracelets, a gold neckless, and a bag molded as the jacket that Clawdeen wore when she was first released. As well as a faux fur, purple jacket.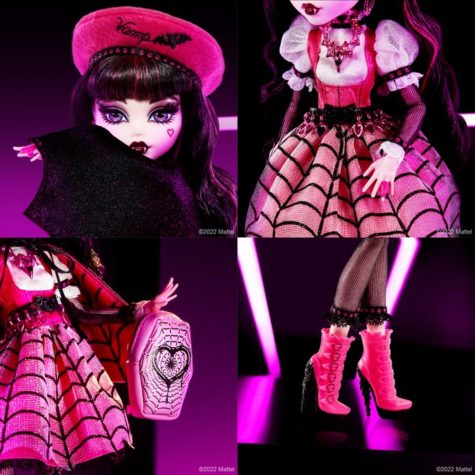 Finally let's go over Draculara. Draculara is seen with a black bat winged shaped cape with pink on the underside and a spider web print, a victorian styled lolita dress with a spider web design, black mesh tights, a pink coffin shaped bag with spider web design, a black and pink neckless, pink ring, black and pink heeled boots, and a pink beret with 'vamp' embroidered onto in.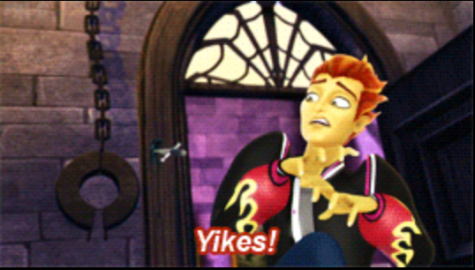 These dolls are retailing at $75 each and have been sold out these past few days. Which makes sense for this outcome to happen, because fans were more than happy to have the original characters come back with a new upgraded design. After the not so appreciated re-released version of the dolls that are being sold in the market.
{all images are from the Monster High official twitter account}