Auguste Toulmouche: Master of Painting Fabric
Auguste Toulmouche was a French painter born in Nantes in 1829. Studying art under Charles Glerye, he became one of Glerye's favorite students. Glerye was a Swiss artist who became prominent in France and trained many of the most famous and renowned artists including Claude Monet and Pierre-Auguste Renoir. This led Toulmouche to have some of his first paintings exhibited at the famous and highly regarded Paris Salon in 1848. The Paris Salon was the place to be, and "anybody who was anybody" was featured there. It was the official art exhibition of the Royal Academy of Painting and Sculpture and only paintings that followed certain art styles and techniques would be featured. Toulmouche was only 19 years old.
He was popular in France and America and known for his paintings of upper-class Parisian women. His paintings were often purchased by the royal family including La fille (The Girl) in 1852, which was purchased by Napoleon III. Emilie Zola, a popular critic of the time, once referred to the beautiful Parisian subjects as "délicieuses poupées de Toulmouche" or "Toulmouche's delicious dolls."
In 1852 and 1861, Toulmouche won medals at the Paris Salon in 1852 and 1861. His fame in the art world continued when in 1870, he was made a Chevalier of the Legion of Honor. Toulmouche focused on wealthy women dressed in elaborate and beautiful clothing. He also focused heavily on elaborate interiors. These aspects which once made him so well respected ultimately led to his downfall when in the 1870s, Impressionism and the focus on the everyday person through moments led to a decline in the popularity of traditional paintings. He was actually a cousin by marriage of Claude Monet, one of the most famous Impressionist painters. Toulmouche encouraged Monet to study with his former mentor, Glerye.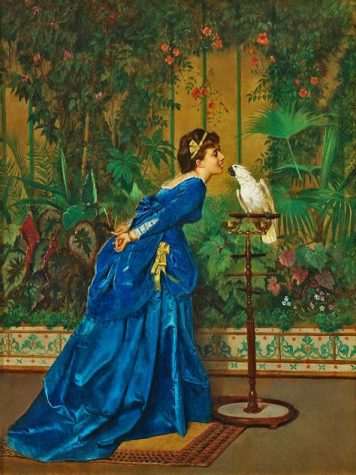 Though he died in 1890 at the age of 61, his art continues to be shown in the Louvre, the Museum of Fine Arts (Boston), Sterling and Francine Clark Art Institute, and the Musee des Beaux-Arts (Nantes). That being said, most of his work is in private collections.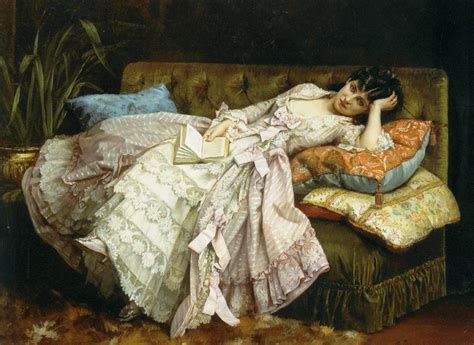 What makes Toulmouche one of my favorite artists is the detail and realism of the fabrics and furniture. Although Impressionism is definitely one of my favorite art styles, there is something about the artwork of the Parisian Salon that will always be beautiful to me. The paintings are reminiscent of other famous artists, like Vermeer, in that they look so incredibly realistic that they could be photographs at first glance.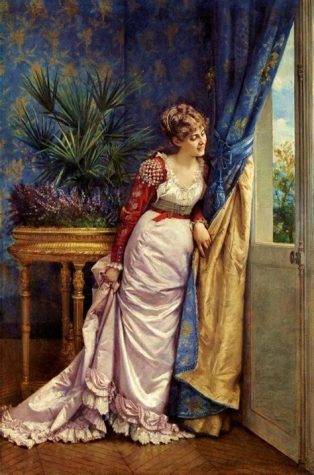 While the public of 1870's France was bored of the upper class, highly staged, and single-subject paintings that dominated the art world prior to this time, it is this transition to more modern forms of art that makes paintings like Toulemouche's so interesting to today's viewers. Personally, I believe that Toulemouche is extremely underrated. His art was overshadowed by the experimentalism of the Impressionist paintings that shocked the art world and directly defied the Salon.