Last Minute Tips for Your Senior Scrapbook
If you're a senior, you're likely making a senior scrapbook for your English class. While every teacher has slightly different rules and guidelines, here are a few tips to help you make your scrapbook look even better!
Print out your stickers!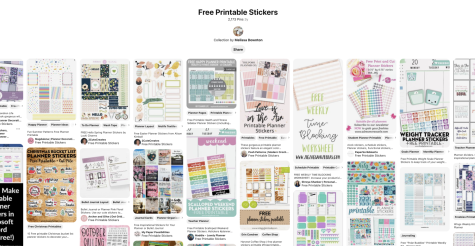 Stickers at Michael's or Hobby Lobby are very expensive. A pack of scrapbook-worthy stickers averages to be about $4.99. If you're planning on getting stickers with multiple themes for your different pages, it can become very expensive, especially since scrapbooks themselves can be anywhere from $15 to upwards of $50. If you're like me, your scrapbook budget isn't going to cover these kinds of costs.
An amazing alternative is printing stickers from online, and gluing them to your page. It can dramatically improve the look of your scrapbook page and help you fill up extra space, if you don't have many pictures. Melissa Downton on Pinterest has complied a variety of printable stickers that provide you with different labels and decorations. (https://pin.it/24iJLkH)
You can also Google "(your topic) scrapbook stickers" and find a variety of different designs that match the aesthetic of your scrapbook. Best of all, it's free and you can print them at your house, have a favorite teacher print them, or ask a friend. This is a great way to save money and have a beautiful scrapbook to remember your high school experiences. Clip art can also be cut out and used as stickers, although I find that designs intended to be printed out, tend to look better and more professional.
Take screenshots from old videos/posts

While I don't use social media as much as I used to, I have countless videos of my friends from freshman year and far less photos. I thought this was just a personal experience, but talking with other seniors, a lot of us are in need of photos from years ago and have a lot of old videos. Growing up in the age of social media, many of us posted short clips of what we were doing on our social media stories as opposed to photos. Look back through your old Snapchat and Instagram stories! This is a great way to incorporate moments of your high school years into your scrapbook even if you didn't take many photos. Similarly, if you had music.ly or TikTok, you can use frames from these videos as photos for your scrapbook. Reminder to look closely at the screenshots to make your there isn't anything that would not be appropriate for school.
Use old magazines and construction paper to make background designs-or draw/paint your own!
Craft stores sell paper specifically for scrapbooking, complete with beautiful designs. With each piece being about a dollar, the costs can add up alongside the costs of the scrapbook itself. Using construction paper and old magazines, you can make really beautiful designs with materials you already have. Construction paper is cheap and you have unlimited designs! Magazines are usually only used once, so finding another purpose for them is a great idea.
You can also use the letters from magazines to create unique and colorful labels!
You can also follow tutorials on Youtube to learn about easy techniques to paint/draw your own backgrounds.
Use free online scrapbook software!
If your teacher is allowing you to do an online scrapbook, you can use websites like Canva (https://www.canva.com/create/scrapbooks/) and Adobe Express (https://www.adobe.com/express/create/scrapbook). These online scrapbook makers have beautiful templates and are a great alternative to using resources like Google Slides, which can be difficult to use to make scrapbooks.
All students have Adobe Creative Cloud Accounts, so you can use your school email and password to log in, or you can use a personal email. The only downside is that as far as I know, you have to combine all of the different scrapbook pages as one after you are done. This can be done by downloading each slide (which you design as individual projects) and then adding them to Google Slides to make it easy to share and click through.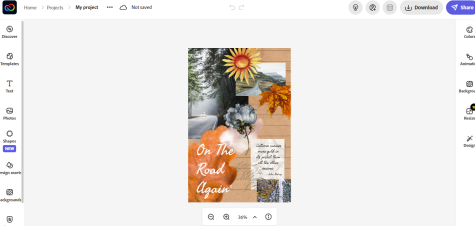 Canva is better in my personal experience as you are able to make multiple pages at once, and you can save them all together as one project. They have many templates, though they do have a more "digital feel" than those on Adobe Creative Cloud. Creative Cloud templates look much more similar to physical scrapbooks, so it's up to you to decide which works better for you and has the look you want.