End of the Year Library Returns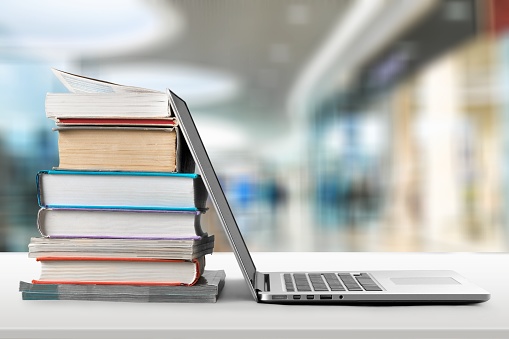 The last day of school is rapidly approaching, and with that comes textbook returns. Additionally, as seniors graduate, they also need to decide whether to purchase their laptop, or return it.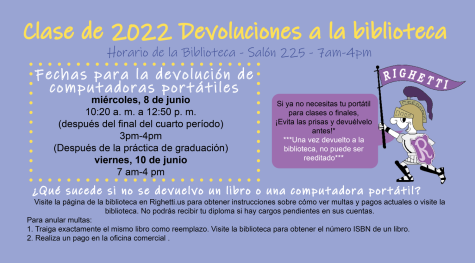 Textbooks are returned during your class period and are scheduled throughout the day. If you will not be able to attend school that day, please talk to the librarians and bring in your books another time. Your teachers should inform you when you need to return textbooks, but if you are unsure, please ask Ms. Tonascia or Ms. Anderson for more information. If you have any questions, you can reach them via [email protected] or [email protected], or by phone at (805) 937-205 ext. 2250 and (805) 937 2501 ext. 2251.
The library has been moved from it's previous location to room 225 and is open 7:00am -4:00pm, Monday-Friday.
Laptop return dates are Wednesday, June 8th from 10:20am-12:50pm (after 4th period finals) and 3:00pm to 4pm (after graduation practice); Friday, June 10th from 7:00am to 4:00pm. However, it is recommended that you turn in your laptop ahead of time if you no longer need it for finals.
Additionally, if you are a senior and want to purchase your tablet, you must receive information and pick up a form from room 225. Although it is not advertised like last year, it is available for students. However, keep in mind that once a tablet is returned, it is not issued to other students. Tablets can be purchased for $25 and you must have parent permission. They will be reset/reimaged to remove school software/accounts.
Students who do not purchase or return their laptops (if they are seniors) and textbooks will be fined and are responsible for paying all fines or they will not receive their diplomas (if they are seniors). If you are not sure what you are missing, go to the Business Office or the Library to confirm missing returns. Payments/fines must be made at the Business Office, located next to the Guidance Office and Cafeteria.
To clear any fines, you must bring in the exact same book as the replacement or make a payment. To verify that a book is the same as the one issued, you may request the textbook's ISBN number.