Homecoming Overall
Were you sure what to expect? Was homecoming worse, or better than you thought? There were some good and some bad. Ernest Righetti High School has more than 2,000 students, and only sold around 900 tickets. Many students couldn't buy a ticket because they sold out within two days before homecoming.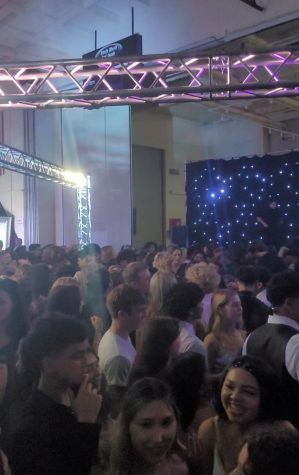 Homecoming took place inside the gym, and had an outdoor area with tables. Even though less than half of the school showed up, it was extremely crowded. Before you could enter, you had to enter the wrestling room for a bag check. If you didn't have a bag, you're allowed to walk right in. If you had a bag/purse, you had to wait in line to give your belongings to the staff because they weren't allowed inside.
What could you do inside? Of course, all of the gym can be your dance floor. The students preferred to all dance close together in a huge crowd. If you really wanted to create a memory, there were two lines you could wait in. One was a photo booth, and the other was a camera that would spin around you and your friends for you to save the video! Many students couldn't get their photos because the photo had to be airdropped, it usually declined and students couldn't keep the photos sadly. Later on throughout the night, the spinning camera broke due to it hitting someone's foot while spinning around. The photo booth gave a futuristic look somehow because of the theme, "Out of this world." If you were thirsty, you could buy a water bottle for a dollar in the girls locker room. If you were hungry, there was nothing offered. That's why it's recommended to eat dinner before homecoming.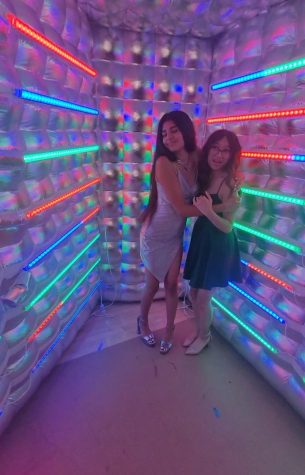 What were some downsides to the dance? The DJ's music randomly stopped, twice! This led to the whole crowd standing still and booing until the music was turned back on. Later on during the night, most woman danced without shoes on since their heels were starting to hurt. They were allowed to go back to the wrestling room, and let the staff put their heels with their purse. A big complaint by students were two things. Empty mini shot bottles found on the dance floor, and a lot of students making out. I noticed this too and it was annoying. Especially if you're stuck in a crowd and it's hard to move.
The DJ did a good music choice for the young audience. He played music popular from 2016 to present time. To get the crowd going, he made sure to play Nicki Minaj and Bad bunny. The only Spanish song he played was "La Chona," of course. It was cool at one point because they lit a mini spray firework on stage. Another time on stage, they brought the homecoming king and queen to stand next to each other. I rate this homecoming a 7/10.