Righetti FFA Poultry Team in Indy
The 95th National convention was held from October 26th to October 29th in Indianapolis, Indiana. The National convention is the biggest convention that FFA members are able to attend, in total 63,000 members from across the country attended the convention.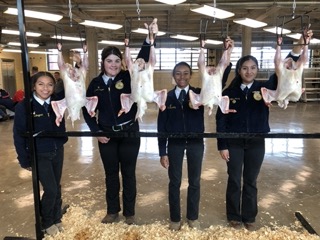 Righetti FFA Took 6 members to the National convention. This year we had 4 members competing in poultry. Our team consisted of Savannah Taylor, Jenny Perez (a past RHS graduate), Jada Sanchez, and Adrena Longoria. We also had Savannah Taylor place 6th in the nation individually. Congratulations to our poultry team who placed 4th in the Entire Nation as well as all competitors ranking gold.