SLO Residents Concerned Due to Recent Mountain Lion Sightings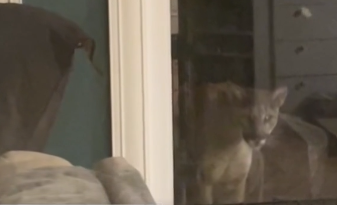 SLO residents are concerned due to recent mountain lion sightings near Irish Hills and the Johnson Ranch hiking trails, and even in some people's backyards. Rosanna Medeiros had one in her backyard and had this to say about it, "I took another look because I thought that it looked a little too big to be a golden retriever' and then she went 'Oh my goodness, it is a mountain lion!'" She and her daughter, last Monday morning, spotted the mountain lion after they let their dog out into the backyard.
     An official with California's Department of Fish and Wildlife says in the last week, they had received many phone calls from other concerned locals, "We are seeing a lot more activity and interaction with people in neighborhoods where you don't see mountain lion activity,"
   Medeiros wanted to issue a warning to her fellow neighbors, "If you are going for walks or with your pets, please be safe. The mountain lions and coyotes were here before us. We know they are out there, just be safe and watch your surroundings," she said. The California Fish and Wildlife Department added that the mountain lion that has been spotted recently is one they've already seen before, but other cats may be in the area.