TOMORROW X TOGETHER 1 on 200 Billboards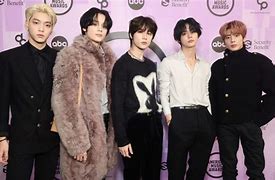 The South Korean boy group 'Tomorrow X Together' recently came out with 'The Name Chapter: TEMPTATION- EP' mini album and it did very well. With five tracks and the title track 'Sugar Rush Ride' this album was one of the best albums. Within 24 hours of the music video being released it had 15.4 million views. Moa (fanbase) did an amazing job at streaming and surpassed many accomplishments with this album and music video.
One of their tracks 'Happy Fools' featured the hip-hop/rap singer Coi Leray. This song has a very upbeat vibe and is catchy. Another song 'Devil by the Window' is an all-English song that's tuneful. Their title track 'Sugar Rush Ride' is such an awesome track, it's a song you'll want to listen to over and over and dance to. It brings out the feeling of temptation because this what the song is about. The members voice all flow so well and the music just makes it so much better. When you watch the music video you are mesmerized by the dance moves and visuals. The song 'Tinnitus (Wanna be a rock)' is one of my favorite tracks. The beat is so addicting and tropical, it's a song that I never want to stop listening to. Finally, the last track 'Farewell, Neverland' is a slower song with emotion that is very beautiful.
All these songs on the album made a big difference in the K-pop community. TNC: Temptation broke many records and will continue to break records. This album surpassed SZA's SOS album which has been number one for weeks. This album has also surpassed and broke many of BTS records. TOMORROW X TOGETHER is one of the best 4th generations if not the best K-pop group in their time. They sold over 2 million presales on this album globally.