The 6.2L Detroit Diesel. Is It Really That Bad?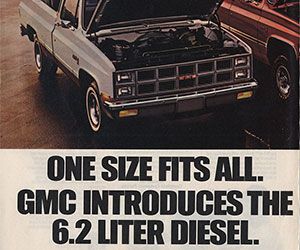 Today I'm going to talk about one of the diesel's that paved the road for some of the other diesel's that we know and love today such as the 6.7L turbo diesel Cummins, 6.7L Powerstroke, and the 6.6L turbo diesel duramax. I myself own this diesel truck and that is known as the 6.2L Detriot Diesel. Now I'm not going to sit here and tell you that this was the best diesel truck of its time because the short and sweet answer was no, it was not, but at the same time it all depends on how you looked at it and what you needed it for. now during the 80s cars were not making that much power out of the factory, no matter what car you got they were slow, whether that be the chevy 350,305,425,454, it didn't matter. cars were slow, sure all these could be upgraded with some simple things like a cam, pistons, intake, and boom you making hp per cubic inch. but that's not what I'm talking about I'm talking about cars outta the factory. if we look at the 1983 chevy 350 small block you were only making about  155 HP @ 4000 RPM
240 ft-lbs Of torque @ 2800 RPM which again isn't all that much power, now you don't have all that much power and you only getting like 11 miles to the gallon, during the 80's we were having a fuel scare and we were afraid that we were gonna run out of resources to make fuel so, what did GM do you might ask? well, they made the 6.2L Diesel now this truck was built with one thing in mind, fuel economy. this truck made about 145HP @3600RPM and 245 FT-LBS of torque @2000RPM so the 6.2L diesel was making pretty much the same amount of power all while doing it more efficiently, working less, and saving all the gas mileage. this truck could get between 22-30 mpg, which is a lot for that time. now if you tried to compare these same numbers to something like the 454 big block making 250hp with 400ft-lbs of torque, this motor was designed with power in mind and nothing else, built to pull down houses. but again that wasn't the thought of the 6.2. this was a very reliable motor once they tuned it throughout the years, this was the start of the diesel uprise in the trucks ford came out with their 6.9L Powerstroke. Cummins later came out with their 12v 5.9L cummins in 1989, the ford making 161 horsepower @ 3,300 rpm and 307 lb-ft @ 1,800 rpm and the Cummins when they were introduced they were making 230 hp and 440 ft-lbs of torque. the 6.2 never competed with these numbers but they did pave the way for them, I personally love my 6.2 it may not be fast topping out at a whopping 70mph if I'm lucky but it does have some torque behind it, you can also add a turbo by stealing the set up off a later introduced 6.5L turbo diesel from chevy as well, bumping these numbers up quite a bit, in conclusion, these motors are not bad for what they are, very reliable, easy to maintain, great fuel economy, and ok in the power department. plus if you ask me its fun to roll coal on the people behind me while i drive.