Sports Rivals, vol. 3
The Highschool Years:
In the high school years Magic Johnson played in Michigan at Lansing Everett high school, Magic was the most popular at the school as he was a 6'9 210 pound wrecking ball of a player, he averaged 29 points and 17 rebounds leading his team to the state championship committing to the Michigan St. Spartans. Larry Bird played in Indiana at Springs Valley High School, he was the very quiet kid in school which is something that would change later on, Bird averaged 31 points and 21 rebounds as a senior committing to the Indiana Hoosiers who were one of the best college teams at the time. Bird ended up leaving the campus returning home to clean neighborhoods becoming a cleaner of the streets as the huge campus of Indiana was too much for the shy kid. But after a year of cleaning Bird chose to return to college, but instead of returning to Indiana Bird went to the much smaller Indiana State who had never even reached the NCAA tournament.
Magic vs Bird begins: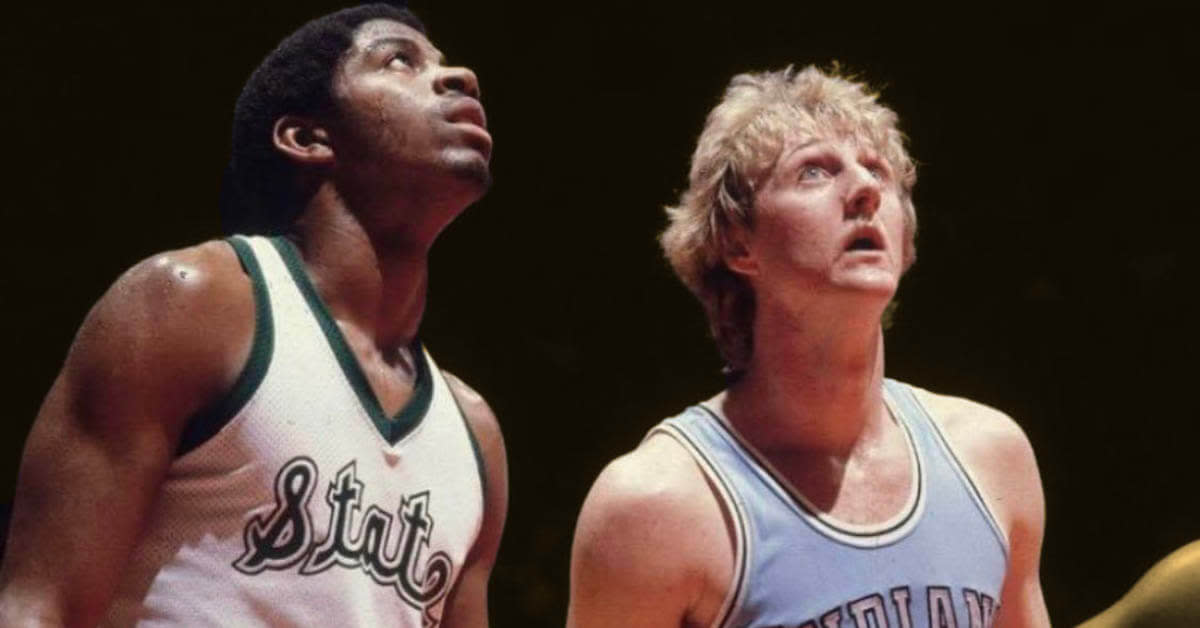 Although Indiana state never even reached the NCAA tournament it would quickly change as Bird began to get on the court, Bird averaged 30 points, 15 rebounds, and 5 assists with the Sycamores. In Bird's senior year he led the Sycamores to their first NCAA tournament in the history of Indiana State getting off to a 33-0 record as they played in the 1979 NCAA Finals against sophomore Magic Johnson and the Michigan Spartans. Before the NCAA finals game Johnson walked up to Bird to shake his hand, but Bird Shrugged Magic off, this officially beginning the rivalry. The game begins as both teams immediately trade blows as Magic and Bird each get the first assists of the game in the first half Bird began off a bad shooting night really hurting the Sycamores as they went down 37-28 at the end of the first half, in the second half they had 36 but this didn't compare to the Spartans 38 points in the second half and in the end the Spartans came out on top 75-64 as Larry Bird had one of his worst games of the tournament with a still solid 19 points, a whopping 5 steals,  and 13 rebounds. But Magic Johnson had 26 points, 7 rebounds, and 5 assists also coming with the win. In this game the two players learned each other's games, but this was only a taste, little did they know this would begin one of the biggest, most well known sports rivalries ever that would have some of the greatest faceoffs in NBA history.