Poetry Out Loud Competition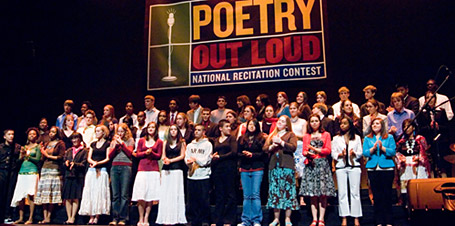 Be the first Righetti student to win the Poetry Out Loud Competition!
Did you know that for the last three years, Righetti has been a part of the Poetry Out Loud competition? We spoke with Mrs. Kurth, one of the English teachers here at Righetti. The Regional Poetry Out Loud Competition will take place on February 12th at the Santa Maria Veterans Memorial Center (313 W Tunnell St, Santa Maria, CA 93455). The state finals will begin March 15, 2020, and will be held in Sacramento, CA. The National Finals will start on April 27, 2020, in Washington D.C. We have had over twenty students in the last two years audition to represent Righetti in the Poetry Out Loud Competition. Any student of any grade from Righetti can audition and only three are chosen!
Auditions for this year are this Friday January 31, 2020 at lunch in room 831.
As Mrs. Kurth says, "Poetry Out Loud is an amazing competition that helps students gain confidence with public speaking skills and it exposes Righetti students to a variety of poems and poetic forms…It is truly a moving experience to watch all of the students recite poetry with such feeling and power."
There are also cash, scholarship and paid travel opportunities for the winners of the competition!
Be the first Righetti student ever to receive this award! Good luck!