Glass Portraits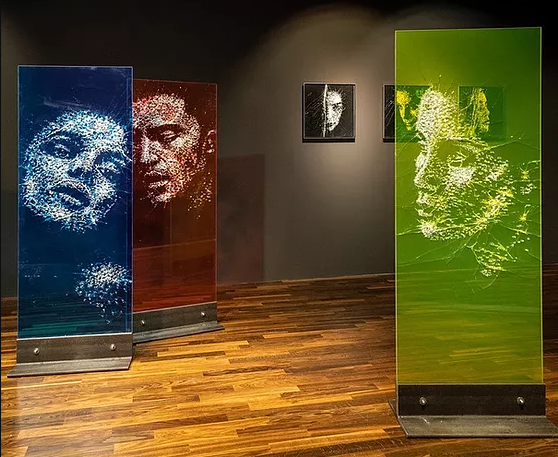 These works of art are not the result of an accident, but instead precise cracks using a hammer, which results in stunning portraits. Simon Berger is the artist behind this unconventional art form. He calls these transparent lines in the glass "morphogenesis."
Since 2017, Berger has been creating extremely accurate portrayals of faces using window panes. While his expertise in this technique allows him to create the portraits in a single attempt, oftentimes, it can take him up to five times to achieve the desired outcome. This is because not only is the cost of the window panes expensive, but one wrong move and the entire portrait must be redone. To prevent this from happening, he uses a specific type of glass known as laminated safety glass, which has an inner plastic layer that helps hold the glass together when met with force.
Berger uses a technique of unbroken space and densely broken areas to form the shape of a face. Similar to pressing a pencil harder on the paper to create a shadow effect, Berger creates areas of light and darkness by leaving areas of "darkness" unbroken. The harder and more times that he hits the glass, the more vibrant the cracks become, making the face more easily identifiable.
Berger uses real faces as references for his photos. He has photoshoots and adjusts those images to have more contrast and be in black and white, since glass, his canvas, is monochrome. Then, he sketches a rough outline of the image on the glass, before using his hammer to begin the cracking process. He compares his art to spider webs in an interview with Art Insider. He says that he prefers his art to be more abstract and that starting with large cracks across the glass actually makes the process more controlled.
His art has been featured in the media many times, with some of his art pieces being installed in famous storefront windows in Switzerland. He also has a page on his website, https://en.simonberger.art/, dedicated to articles regarding his unique art style. His art has been displayed both as street art and indoor exhibitions, both of which provide an up-close look at his unconventional work.