How Do Seniors Feel About Returning to On-Campus Learning?
After almost a year and a half after shutdown, Righetti High School is officially back in session and both students & staff are absolutely ecstatic to be back on campus, especially this year's Class of 2022. With the start of the new school year, many new restrictions and guidelines have been put in place to make the 2021-2022 school year feel safer. I wanted to know how seniors were feeling about their last year of high school happening during COVID-19 and what they thought about being back on campus, so I interviewed a few seniors and asked them all the same following question: "How do you feel about spending your senior year on campus during COVID-19?". Here's what everyone had to say: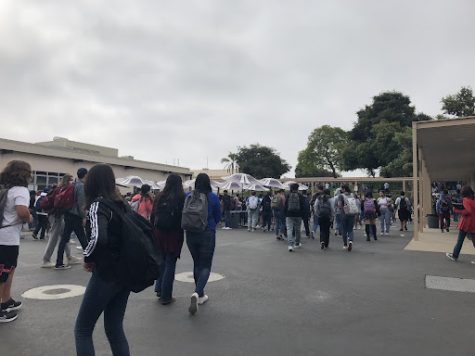 "It was very unexpected, but has so far been a very good experience and I hope it stays this way throughout the year." -Mia Martinez, Senior 
"It honestly doesn't feel too different from how things were before we left school- besides the fact that everyone has to wear masks now. So yeah, personally it has been pretty indifferent (so far)." -Valerie Gonzales, Senior 
"Although COVID-19 is a risk of being on-campus, I am excited for my senior year so that I can enjoy the rest of my time in high school with my friends." – Adrian Arredondo, Senior 
"Super happy and nervous at the same time, honestly I missed being on campus and it's been so long since I've seen all my classmates. With that being said, I also hope that people try their best to be safe and choose to get vaccinated. It's my senior year and I want to stay on campus and keep it that way!" – Sarah Barron, Senior
"I'm glad to be back on campus at least for one more year since our sophomore year was taken from us, but it does feel a little weird seeing everybody with masks now." -Joshuah Olvera, Senior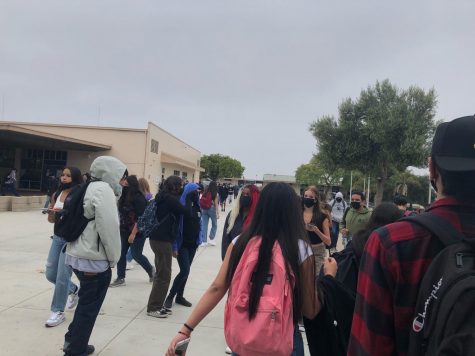 "I definitely had to adjust to getting put in with thousands of students at once which was overwhelming, and I am still getting used to it. It being my senior year makes me want to make as many memories as possible and cherish every moment because I'll never know when it will be the last time I see my friends. COVID definitely makes things challenging with not being able to recognize faces, but I'm glad that we could go back to school in a safer manner!" -Tracy García, Senior 
"I'm glad that we are back on campus but it's a little stressful knowing that people are still getting sick. I wish they would have given us the option to stay virtual again." -Ashley Palin, Senior 
"Honestly it's really weird and not at all what I was expecting when I first started high school. It's kind of disappointing the way this year is happening too, because of COVID, like when it comes to masks and the fact that usually we make new friends (in person) as the years go on but we missed out on a whole year of that. I keep wondering how my senior year would've been if the pandemic never happened, but I am glad we're back on campus despite everything, I just hope people continue wearing their masks and doing what they can to prevent COVID from spreading within the school because I really hope to stay in person for the rest of this year. We need one more almost normal year before we graduate, I think we deserve that." -Alyssa Sanchez, Senior 
"I feel pretty good about it but I'm also scared because this can cause a lot of problems, especially with a lot of people being around and sometimes they don't wear their masks. Even though this is all happening I feel happy that we are back at campus especially for our last year."- Brandon Bernal, Senior 
"I remember my sophomore year and some of my senior friends would say 'Imagine if you didn't have a senior year because of COVID' and I would just laugh because, at the time, I thought that there was NO way that that would be possible. Fast forward a year or so, and I was honestly beginning to think that was true. Now, I could not possibly be any more grateful for the opportunity to actually go to school and I never thought I would be saying that. I look forward to all the senior activities that I thought we would be missing out on!" -Peyton Carrera, Senior
"It honestly feels good to be back on campus but I think they should have done a hybrid schedule. With so many people, the school is bound to have a breakout and lead to a shut down. Most seniors work and when they get exposed to COVID they can bring that to work. I still hope we can experience all the extra things like homecoming and prom safely though. I would like to experience those things." -Ariceli Carter, Senior
"I'm really excited to be back on campus, but a lot has changed. There are so many more students on campus as well as new teachers, it's crazy." -Faith Cralley, Senior
Everyone gave mixed opinions, but overall the majority of seniors are glad to be back on campus. As things are slowly returning back to normal and we all are readjusting to life back on campus, we can only hope that everything can stay this way throughout the whole school year.