Ed Emshwiller: Sci-Fi Pioneer
Edmund Alexander Emshwiller, known publicly as Ed Emshwiller, was born in Lansing, Michigan in 1925. After his high school graduation, he enlisted in the military during World War II, where he served as a 2nd Lieutenant, 351st Infantry, 88th Division, with the 3rd Battalion in Trieste, Italy. There, he found his love for art and design as a Special Service Officer in charge of wartime propaganda including posters and films. Later, he graduated from the University of Michigan and then studied at École des Beaux-Arts, an art school in France. He then married his wife, Carol Emshwiller, who became an author. He started his sc-fi career creating covers for science fiction magazines like Galaxy Science Fiction and The Magazine of Fantasy & Science Fiction, which he did throughout the 1950s, 60s, and 70s. In this work, he signed his name as "Emsh." During this time, particularly through the 1950s and 1960s, he also did covers for books by publishers including Gold Medal Books and Ballantine Books.
He then began his work in experimental sci-fi films. Very involved in the independent film movement in NYC, his work included collaborations with modern dancers like Yvonne Rainer, Caroline Carlson, and the Pilobolus Dance Group, according to pulp artists.com. He became a member of a group of independent 16mm filmmakers, known as the Cinema 16, as well as the Filmmakers' Co-op.
One of his films, Dance Chromatic, features young dancer Nancy Fenster who dances among abstract figures and backdrops. This is particularly impressive because Emshwiller's editing work was done in-camera, meaning it required specific mathematical precision. Eshmwiller's work had gone largely unrecognized until October 18 – December 7, 2019, when his films, videos and visual art were put on display at the Rosenwald-Wolf Gallery, presented by Lightbox Film Center at International House Philadelphia.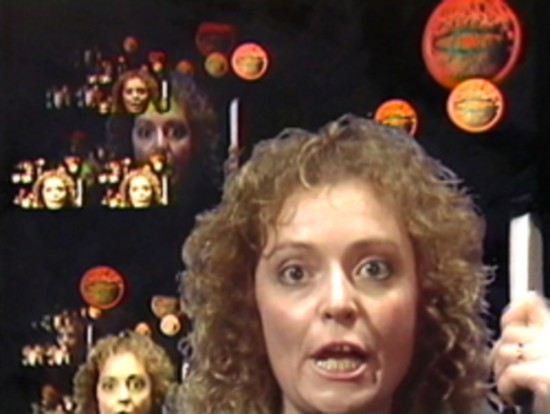 In his later years, he moved to California and became the dean of the Film School at the California Institute of the Arts until his death in 1990 as a result of cancer.
To to learn more Ed Emshwiller's films, as well as his other art, click here: Interview With Ed Eshmwiller
Lightbox Film Center's Dream Dance: Dream Dance: The Art of Ed Emshwiller