Helpful Online Sites for Students
It's no secret that the internet is a treasure trove of resources for students, but it can be difficult to sort through the billions of sites available. This is a list of a few websites that are helpful for high school students and that have helped me throughout my high school years.
Google Scholar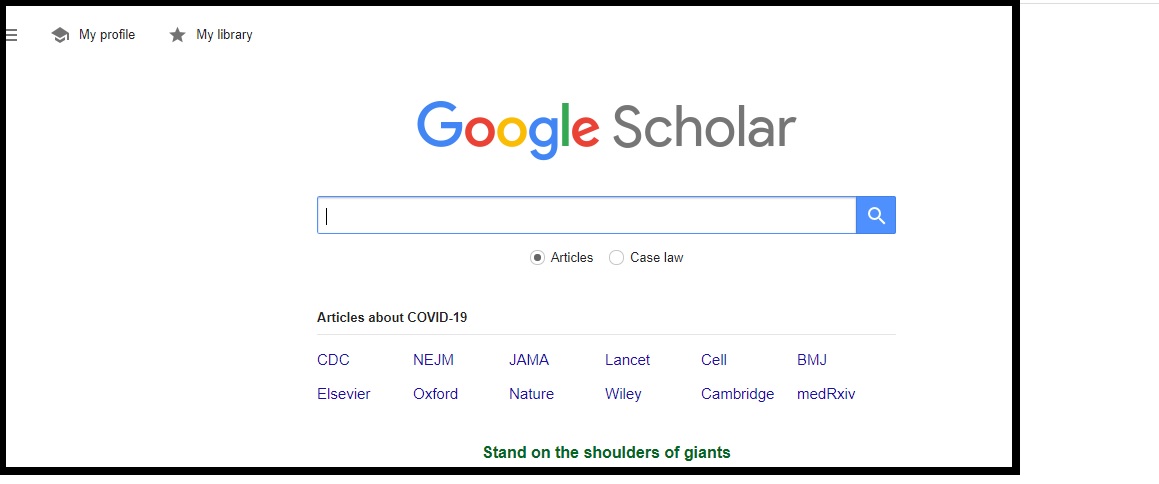 Need to write a research paper? Google Scholar is Google, but specifically focuses on credible sources and sites. It searches the internet for articles written by trustworthy scholars and is excellent for finding new sources. While Wikipedia may be an accessible source, it's not always credible due its easy edibility, and many teachers do not want students to use it as a main source. Google Scholar is a great way to find articles and books, as well as research court cases (which is helpful for the SCOTUS case project in senior Government classes).
Project Gutenberg and the Santa Maria Virtual Library
Free eBooks | Project Gutenberg
Virtual Library | City of Santa Maria
Want access to free books? One way to get access to free books is through Project Gutenberg, which is a website that has books in which U.S. copyright has expired.
Additionally, the Santa Maria Library has partnered with a few different online resources including Hoopla and Libby, which provide access to free ebooks, movies, and other materials typically available in libraries. All you need for access to these resources is a FREE library card, which you can fill out in our own school library, online, or at the Santa Maria Library (or any of its connected branches). Project Gutenberg does not require a library card.
Grammarly, Quetext and Cite This For Me
Grammarly: Free Online Writing Assistant
Plagiarism Checker | Free Fast Accurate | Quetext
Cite This For Me: Harvard, APA, MLA Reference Generator
Grammarly is a free browser extension that checks your grammar and spelling across a variety of sites. It's great for checking your work in text boxes in Canvas, as well as Google Docs.
Quetext is a great way to check your plagiarism before submitting your work into Turn-it-in. Sometimes you may write an essay without intentionally plagiarizing and it can still be incredibly similar to the work of other students or articles-even if you didn't use them for your essay! To prevent being accused of plagiarizing, copy-paste your essay into Quetext and check if any parts of the essay should be changed so that they are not flagged in Turn-it-in.
Additionally, a great resource for bibliographies (that doesn't make you watch ads before using like EasyBib) is called Cite This For Me. Just select what you want to cite (including websites), write the title or copy-paste the site link, and then Cite This For Me will do the rest. It's a great way to save time and make sure you are siting everything correctly.
Smallpdf, Kami, and Adobe PDF Reader DC
Smallpdf.com – A Free Solution to all your PDF Problems
Kami – Your Digital Classroom Hero | Kami (kamiapp.com)
Adobe – Adobe Acrobat Reader DC Download | Free PDF viewer for Windows, Mac OS, Android
Have an assignment that is in PDF? You can combine PDFs, transfer them into different formats, and make editing/page changes through Smallpdf. It's your one-stop website for all things PDF, with no account required. There is a premium version, but the free version allows you to convert PDFs as well (into Google Docs, Word, JPEG, etc.)
Kami is also a great resource for analyzing PDFs and other types of documents, allowing you to draw, highlight, and add pages/text for free. Just sign up with an email (if you want to connect it to your Google account, then use your Google account email) and you can begin using Kami's free version.
Similarly, Adobe PDF Reader DC is available free to SMJUSHD if you log in using your school email and password. You can highlight and analyze different PDF files, which is great for making notes on PDF books and texts. Additionally, you can use this resource to digitally sign documents and forms as well as fill them out.