What is Achondroplasia?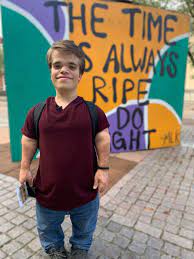 Achondroplasia is the genetic skeletal disorder that shortens people to an average of 4ft 4in in men and 4ft for women. Achondraplasia is caused by a mutation in the fibroblast growth factor receptor gene that results in its protein being overactive. Achondroplasia results in impaired endochondral bone growth (bone growth within cartilage). The disorder has an autosomal dominant mode of inheritance, meaning only one mutated copy of the gene is required for the condition to occur.About 80% of cases occur in children of parents of average stature and result from a new mutation, which most commonly originates as a spontaneous change during spermatogenesis. The rest are inherited from a parent with the condition. The risk of a new mutation increases with the age of the father. In families with two affected parents, children who inherit both affected genes typically die before birth or in early infancy from breathing difficulties. The condition is generally diagnosed based on the clinical features but may be confirmed by genetic testing.
Don't be mean to little people.
.