Undercover Righetti Rabbit?!
On rare occasions, the "Bob Ross backpack girl" doesn't show up with her backpack. This might be a sign the rabbit has arrived. But, why?!
His name his Vaca, a English-spotted rabbit.  So far, he's visited RHS twice. Once on the last day of school in June  2022, and on "Bring anything but a backpack day" (October 12, 2022). What's the reason? All for fun I say. I know people would be happy to meet him since people aren't used to rabbits, and it's a surprise to randomly see a rabbit at school. Vaca doesn't do much since he's awkward, and that's what people love about him. I knew I could trust him to take to school. He doesn't run away, bite people, make loud noises, smell bad or even leaves a mess! The only distracting part about him is his cute appearance.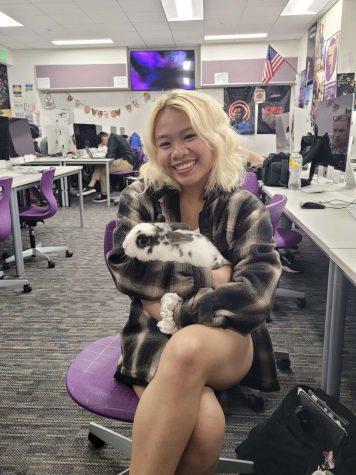 Where do people meet him? Again, actually seeing him rarely happens. If you're lucky enough, he might even be in one of your classes. Every class I've taken him to, at least one person asks to hold him. This is completely fine, just be aware you might get rabbit fur left on your clothing. What were the teachers reactions? Every teacher so far was more than happy to meet him, they even told me their past experiences with rabbits. So far, there's been no problems with me bringing him to school. I have over 9 years experience with rabbits, so I know how to be cautious and properly take care of him.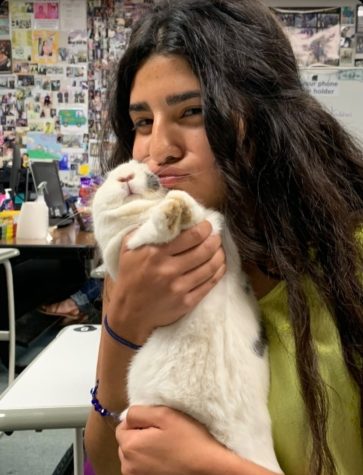 Vaca brings a huge movement for RHS spirit days. He reminds the students how fun spirit weeks can be, and it's their job to be involved and supportive for their school. Some students may be too shy to be involved. I hope Vaca inspired them to join the fun and be supportive.
Will he come to school again, or has his last day of school already passed? No one knows for sure yet, but people definitely want to see him again. What do you think?